Our Very Experienced and Professional Staff
Servicing the Essendon Area
Leah Orchard – Ad. Dip. App. Sc (Myotherapy)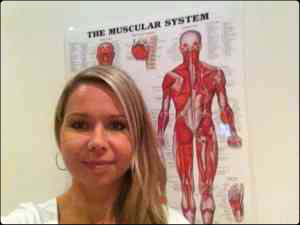 Leah Orchard, at Muscleworx Myotherapy and Massage, has completed an Advanced Diploma of Applied Science (Myotherapy) at RMIT, 2004.
Leah is an experienced myotherapist registered with the Myotherapy Association Australia (MAA), with professional indemnity insurance and provider numbers with most health funds.
Leah is very therefore very qualified to address all your Myotherapy and massage needs.
Leah has worked locally in the Moonee Ponds and Essendon areas providing clients with much needed muscular pain relief ranging from sporting injuries to occupational overuse problems.
Leah has worked with a wide variety of athletes with different sporting teams and in rehabilitation centres, broadening her knowledge to treating a wide variety of clientele, of all ages.
As such she is very experienced to address all your Myotherapy and massage needs.
Leah's goal in treating clients using Myotherapy is to restore muscles to their normal functioning state using a range of musculoskeletal treatments and rehabilitative programs.
Leah Orchard, Myotherapist Ad. Dip. App. Sc (Myotherapy)
Louise Roussety – Ad. Dip. App. Sc (Myotherapy), Ad. Dip. App. Sc (Sports Therapy) 
Louise Roussety is a qualified Myotherapist, graduating with an Advanced Diploma of Myotherapy from RMIT, and an Advanced Diploma of Sports Therapy from the Australian College of Sports Therapy.
She is part of the team of Myotherapists at Carlton Football Club, and has treated at Melbourne Victory Football Club for 2 seasons.
She has an interest in combining functional movement with manual therapies.
Janine Donohue – Ad. Dip. Myotherapy, Bachelor of Nursing, Postgrad Dip in Advanced Clinical Nursing (Anaesthetic)
Janine Donohue is a Myotherapist, Lymphoedema Practitioner and Division 1 Registered Nurse.
 After 20 years of nursing practice, Janine went on to complete an Advanced Diploma of Remedial Massage (Myotherapy) at RMIT and the Lymphoedema Practitioner course with The Lymphoedema Academy of Australia. 
The bringing together of this experience gives Janine a unique approach to client care. 
Janine has a passion for helping people and strives to provide a high quality of care in a professional and caring manner and is committed to assisting you in achieving your goals.
Myotherapy – Janine uses various techniques to relieve muscle and myofascial related pain ensuring each treatment is tailored to suit the individual, including remedial massage, myofascial release, dry needling, cupping, stretching, strengthening exercises and lymphatic massage.
Lymphoedema Management – Janine adheres to the Best Practice Guidelines for the Management of Lymphoedema including Education, Skin care, Exercise, Manual lymphatic drainage (MLD), and Compression therapy.  Following a thorough assessment, an explanation of the proposed management plan will be discussed, working with each client to achieve an optimum outcome.
Heather Murdoch – Dip. Remedial Massage
Heather did her training in New Zealand and Western Australia before coming to Victoria to work.
She has formerly spent several years training as a body builder in NZ and competed 3 times in the regional competitions.
Having a keen interest in holistic health Heather has spent many years studying for various modalities to enhance her work in wellness for her clients.
Some of these include Bowen Therapy, Reiki, Eastern Holistic Therapies (Diploma), Diploma In Clinical Science of Biochemic Therapy, (Schuessler Tissue Salts), Infant Massage, Pregnancy Massage, Reflexology etc.
Treating her clients with respect and compassion is foremost in the work she does, and knows it has a beneficial effect in the outcome of her treatments.
Working in a surgical Ward in WA and seeing the amount of stress in the workplace has been a key factor in helping people cope with the pressures of life and enabling them to recover from soft tissue injuries and trauma.
Heather is very excited to be joining such an outstanding team of therapists and looking forward to working as a remedial massage therapist in the clinic.