Ever wondered what Myotherapy is
and how a Myotherapist can help you?
What is Myotherapy?

Myotherapy (muscular therapy) is a form of physical therapy used to treat or prevent muscular and soft tissue pain (myofascial pain) and restricted joint movement.
It involves assessing the injury or dysfunction, physically treating the pain using various techniques such as massage techniques, deep tissue massage therapy, dry needling and stretching, followed by rehabilitation of the soft tissue and underlying causes.
Dysfunctions may be pain from injuries or chronic tightness that may arise from sporting, recreational or occupational activi
ties, trauma or surgery, postural or genetic conditions, and may cause pain and stiffness resulting in restricted movement of a joint or mobility.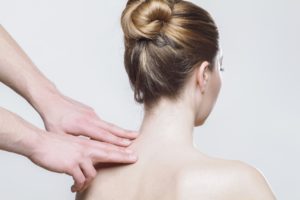 The aims of myotherapy treatment are to:
decrease pain and offer pain relief,
improve muscular strength, flexibility and range of motion of a muscle or joint.
To help manage the injury or dysfunction, corrective exercises, stretches and relevant advice are given to help manage the problem.
When to see a Myotherapist
If any of the points below apply to you, then you need to see a myotherapist (a specialist massage therapist):
when you have muscle pain that lasts longer than a few days,
when you have restricted range of movement at a joint eg. knee, elbow, neck,
when a health practitioner recommends you seek myotherapy treatment,
when you are at risk of sport and/or occupational induced injury,
when you have had an injury and are in the rehabilitative phase,
when you experience head, neck and back aches, and strains,
when you have a chronic condition that affects your mobility,
when you have pre- and post-natal muscle complaints,
when you experience symptoms of pain associated with strain.
Click here to make your appointment TODAY!
Common Complaints
There are common complaints that Myotherapy is very helpful for:
legs: strains of the calf and hamstring, knee pain, sports injuries, referred pain,
hips: arthritis, groin pain, restricted movement,
back: disk injury, muscle spasm, sciatica, chronic pain, postural dysfunction (scoliosis, kyphosis),
shoulders: muscle pain/tightness, frozen shoulder, strains,
head and neck: headaches, migraines, stress/tension, muscular pain/tightness, restricted movement, jaw and head pain,
arms: tennis elbow, golfer's elbow, repetitive injuries,
hands: carpal tunnel syndrome, pins and needles, numbness, overuse injuries,
pre- and post-natal: sore backs, neck/shoulders, swollen legs/feet etc…
Lymphoedema.
Benefits of Myotherapy
There are many benefits to Myotherapy, as you can see:
reduce aches and pains,

increase blood flow,
reduce muscle tension,
increase flexibility and range of movement,
greater mobility of joints and muscles,
overall relief of stress/tension,
increase of lymphatic flow, reducing swelling and inflammation,
relax muscles,
improve posture.